Why Aussies love to gamble?
"Australia's gambling losses per adult are the highest in the world today. Despite the pandemic closing pokies and casinos, a national survey has found the frequency of gambling has gone up, and young men are spending more than before". Source – ABC
| | | |
| --- | --- | --- |
| Gambling participation measure | N | Percent |
| Types of activity | | |
| Poker machines | 29 | 54.7% |
| Races | 16 | 39.2% |
| Lottery or scratch tickets | 14 | 26.4% |
| Sports or online betting | 11 | 20.8% |
| Casino | 9 | 17.0% |
This table published by Australian National University shows clearly that gambling on Pokies is the most common form of gambling in Australia
Let's look at Some Common False Believes used by Pokies Players
When I'll win the big Jackpot, I will stop gambling.
I'm not addicted at all. I just like to spend some time with people I know here.
All those punters around me can't be wrong. Can they?
Little entertainment after a stressful day at work never hurt anyone.
I play just a few times a week. It's not like I play every day.
This machine just paid big. I have to play on this one now.
Mate, I can stop playing Pokies any time I want to. I just don't want to.
I have a rule. I never spend more than $100 per day
Sounds familiar? It does, doesn't it?
The false beliefs are very handy, because they make us feel good about things we sometimes do, knowing that those things are wrong. A similar mindset is used by soldiers who commit war crimes.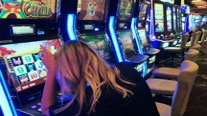 Can we quit compulsive gambling?
Yes, we can!
All right, I know that it sounds like part of Obama's speech, but that is true. You can combat the problem of gambling if you want to. The operative phrase here is, of course:
– Do you want to quit?
Let us talk about how to quit
The sad but actual fact is that even the best psychologist in the world can't help you if you are not ready to stop the destructive behaviour.
Some say that you have to hit bottom first to see the reason to quit. Others say that you don't.
I say that whether you hit bottom or not, I can help you quit gambling as I've done it before many times.
Counselling and form of Psychotherapy which I practice over ten years are constructive methods. I assisted many people in quitting all sorts of addictions. Both take some time and usually work very well, however, once I added the Clinical Hypnotherapy to my approach, I found that treatment required much less time and the outcomes are often long-lasting.
I'm not saying that the old is bad and new is good. I say that psychotherapy, combined with hypnotherapy brings surprising and lasting results for my clients.
According to historical records, the type of hypnotherapy I use is based on traditional hypnosis, which was known and practised thousands of years ago. Ancient Egyptians and Ancient Greeks used that to treat Pharaohs, Kings and their families.
Of course, they didn't call that hypnosis then. They did this in so-called -sleep temples.
I also use Power Hypnosis in some cases. This is also an effective treatment which brings fast resolutions.
Coming back to our topic at hand.
The compulsive gambling is often linked to depression which usually goes together with substance abuse. In my practice at East Melbourne Psychotherapy and Hypnotherapy, I like to use the integrative approach to address such cases. I often design a five sessions program which is specifically catered for the client.
The free of charge, thirty minutes consultation session, during which some preliminary treatment also takes place, gives me the full picture before I start the treatment. However, because the five sessions program is heavily discounted, the total amount has to be paid upfront.
As for the question of efficacy, my approach can't perform miracles such as growing new bones or cure cancer, but it can certainly minimise the pain and discomfort associated with many diseases.
That's all folks, contact to Learn more about East Melbourne Psychotherapy & Hypnotherapy services and get in touch today.
Peter Jankowski, Dip AIPC Dip AAH Pm ACA